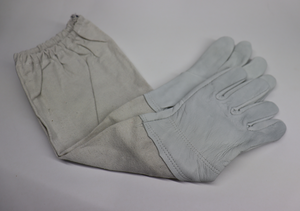 Beekeeping Gloves
Regular price $21.95 Sale
As a beekeeper, you know that having the right gear is essential for a successful beekeeping experience. That's why you need to invest in a quality pair of beekeeping gloves that will protect you from stings and keep you comfortable while you work.
Our beekeeping gloves are designed to provide the highest level of protection and comfort. They are made from lush quality goatskin leather that is both flexible and breathable. The elastic cuffs provide a snug fit and the reinforced stitching ensures a long-lasting product. The long length of the gloves protects your arms and wrists, while the textured palm grip helps you keep a firm hold on your tools. 

Dancing Bee Equipment beekeeping gloves are also designed to be lightweight and easy to clean. They can be wiped down with a damp cloth or hand washed in cold water with mild detergent. After washing, hang them to dry and they'll be ready to use again.
Whether you're a beginner beekeeper or a seasoned pro, our beekeeping gloves are a must-have item in your beekeeping arsenal. Invest in a pair today and make sure you are always prepared and protected when handling your bees. This is the favourite glove of the Dancing Bee Equipment team.