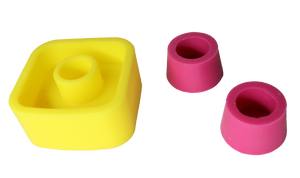 InstantVap Attachments
Regular price $115.90 Sale
Yellow Insulator attachment

Increases the effectiveness of the InstantVap vaporizer!
Less heat loss.
Cleaner device as it captures the oxalic acid that falls off.
Remove the dispenser, then press firmly on the vaporizer through the dispenser tube! The silicone must be tightly pressed onto the device, leaving no gap underneath! The silicone cover can be left on the device after use, it does not have to be removed.

&

Pink Cleaning Attachment

Heat resistant silicone cap for cleaning InstantVap Vaporizers after use.
To be used with gloves and mask only!
Residual oxalic acid vapour escapes during cleaning!
Do not use if the device is clogged!
Overpressure is generated in the device during cleaning!
Caution, risk of burns!
Content: 2 pieces of silicone cup

How to use:
Make sure the appliance is not clogged!
Wear suitable protective equipment: gloves and mask! Oxalic acid vapour still escapes during the cleaning! Caution, risk of burns!

1. Switch off the appliance after use, but leave the battery connected & wait until the appliance cools down to about 200°C.

2. Fill the silicone cap half full with distilled water, then turn the unit upside down and press the silicone cap firmly onto the dispenser tube.

3. Keep the silicone cap pressed firmly on and turn the appliance right side up.

(Be sure the unit is not pointed towards anyone or anything!!)

5. The heat & pressure will allow the water to steam clean the nozzle.

6. Repeat steps 2 & 3.

7. Wait until the appliance cools down to about 100°C.
8. Remove and rinse the nozzle in water and place back on appliance.

9. Fill the cleaning cap with water and pour into the nozzle and swirl to rinse & repeat until water comes out clean.